Henri Chopin Pêche de Nuit (oh hell ah well yes well)
6 February – 20 March 2015
October 5, 2015 4 pm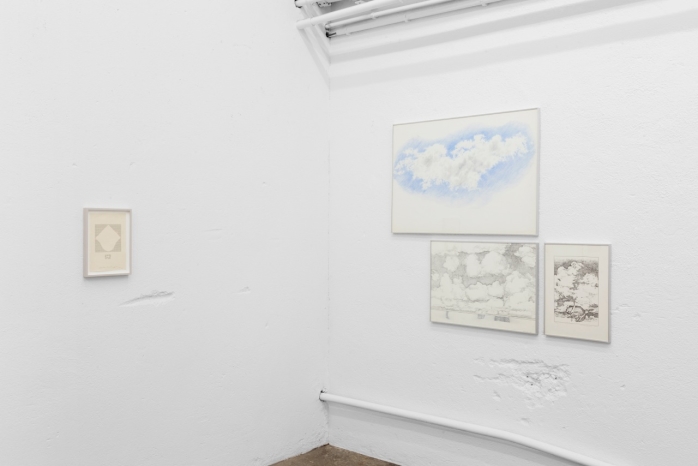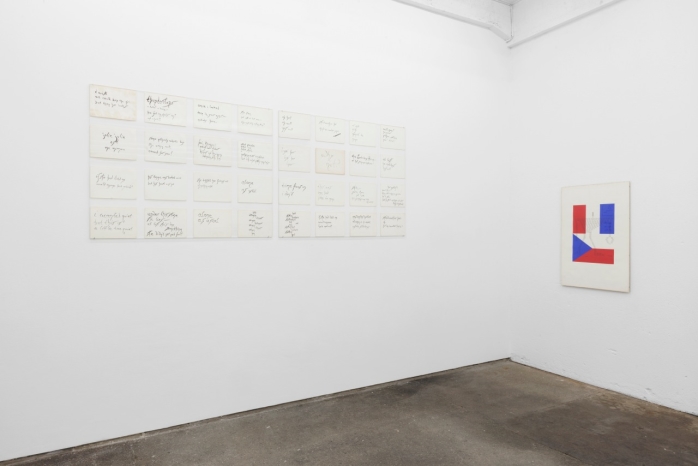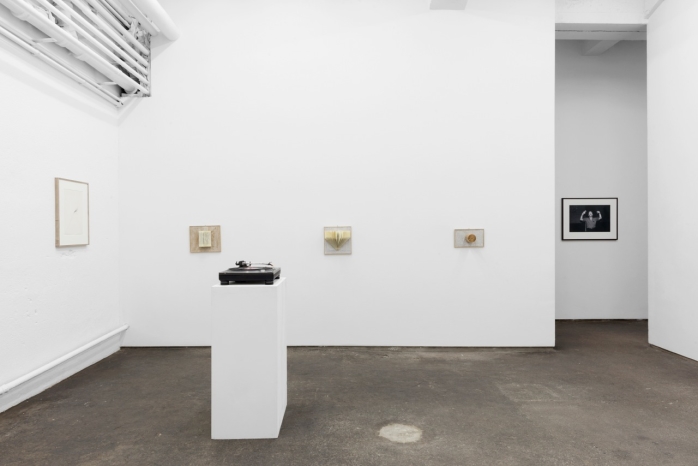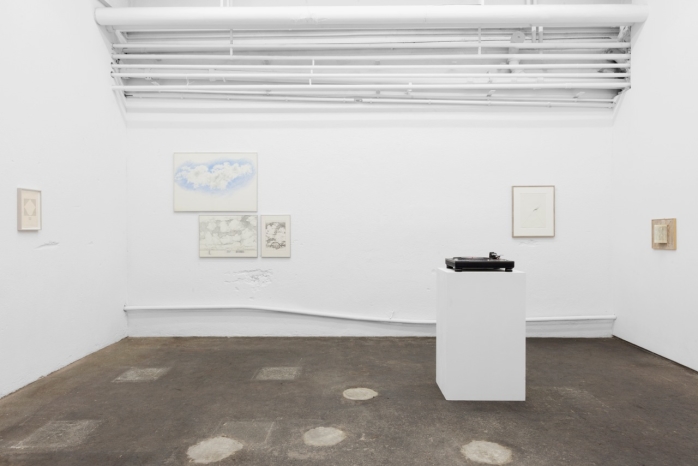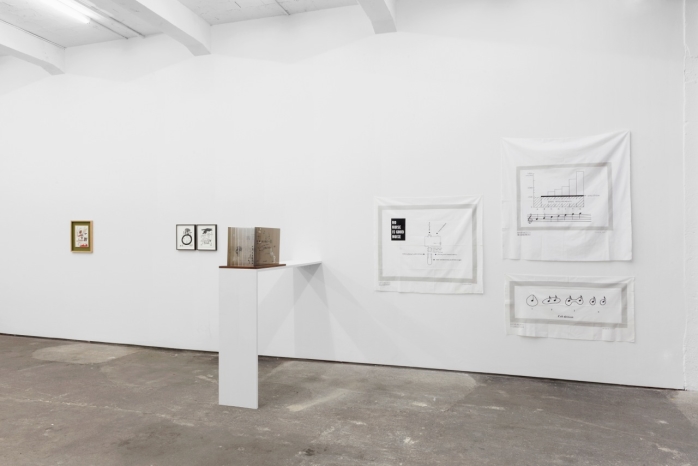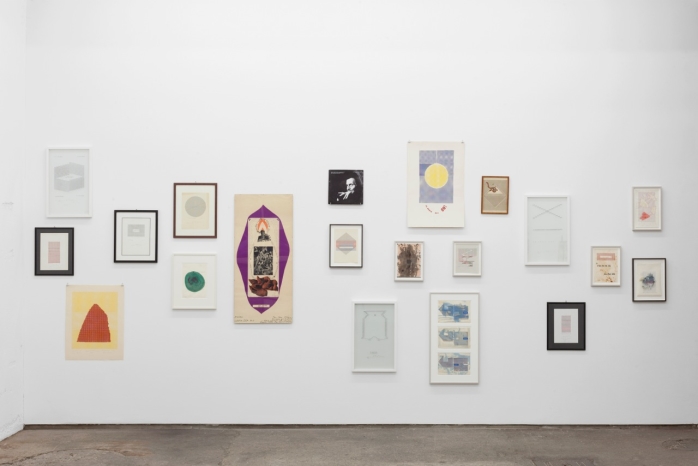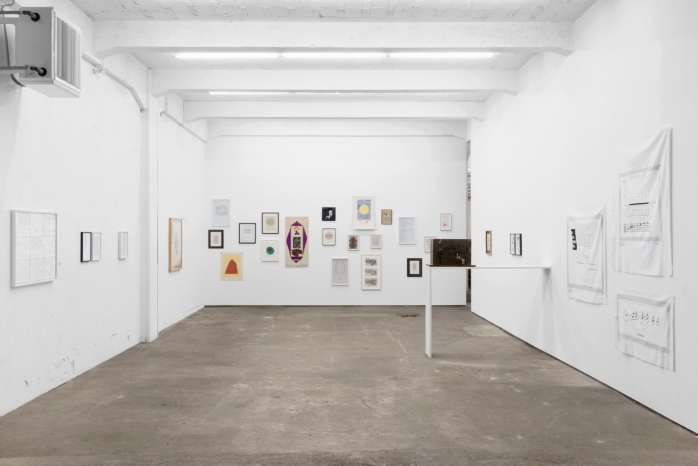 Carl Andre, Mel Bochner, George Brecht, John Cage, Bob Cobbing, Raoul Hausmann, Geoffrey Hendricks, Dick Higgins, Jackson Mac Low, Maurizio Nannucci, Gerhard Rühm, Arrigo Lora Totino, Emmett Williams curated by Supportico Lopez for RaebervonStenglin, Zürich CH
RaebervonStenglin is very pleased to show the group exhibition PÊCHE DE NUIT (oh hell ah well yes well), which brings together well-known positions associated with Fluxus and Neo-Dada. At the center of the exhibition, which is curated by the Berlin Gallery Supportico Lopez, is concrete poetry, a genre that uses the visual and acoustic qualities of word and language as its essential material. Concrete poetry emerged in the early 1950s and established itself as a heterogeneous movement in a number of countries, e.g., the US, France, Great Britain, Sweden, and in German-speaking world. Concrete poetry´s protagonists discovered in the art magazine a venue for exchange and until the late 1960s were able to increase and intensify collaborations transcending national boundaries. The interdisciplinary character of concrete poetry, at the interface of literature and visual art, also strengthened the drive to enter into a dialogue with other art movements of the time.
At the heart of the exhibition is the influential yet little known French poet, sound artist, graphic artist and publisher Henri Chopin (1922-2008), who during the 1950s and 1960s worked with concrete typewriter poetry and sound and noise experiments, interests that he pursued well into old age. Moreover, he published the important literary journal Revue OU (1964–1974), which included innovative typography and recordings on small vinyl records and provided an international platform to poets and artists such as Raoul Hausmann, Bob Cobbing and Emmett Williams.
PÊCHE DE NUIT (oh hell ah well yes well) will be showing works in the context of then-active artists who used lettering and poetry as political, academic, communicative, and free gestures. The group brings together various experimental strands that test a terrain known today as poetic arts. In the exhibition, the freedom and rebelliousness of Fluxus alternates with a challenge to familiar points of view and constructions of meaning reminiscent of Dada.
The title of the exhibition derives from the combination of two different titles: Pêche de Nuit (night fishing) refers to the 1957 eponymous sound piece by Henri Chopin, in which a soundscape of sonorous human voices is overlaid with sounds that imitate what appear to be sounds of nature but which remain undefinable. The second part, oh hell ah well yes well, is one of 32 poems by Dick Higgins (1938-1998), which appeared in 1977 in book form in the exhibition epitaph e phatiepi at the Morra Foundation in Naples. Peppe Morra was an important collaborative partner for concrete poetry artists, not the least of whom was Henri Chopin.
Henri Chopin (born in Paris, France in 1922; died in Dereham, England, in 2008) began working on poetic and artistic pieces in the mid-1950s. In 1968 he moved to London, remaining there until 1985. He then returned to France and often travelled in order to collaborate or lecture well into old age. Henri Chopin's solo exhibitions include: 'Henri Chopin – Dans L'Essex', Firstsite, Colchester (2014); 'Henri Chopin, Gratte Ciel Hors Commerce', New Jerseyy, Basel; 'L'Énergie Du Sommeil', 1M3, Lausanne; 'La Crevette Amoureuse', Supportico Lopez, Berlin (alle 2013); 'Revue OU – Cinquième Saison: An Anthology of Sound Poetry', Argos, Brüssel; 'OU OU OU: Henri Chopin and Revue OU', Summerhall, Edinburgh (both 2012); 'Henri Chopin and the OU Magazine', Fundação de Serralves Porto; 'Neonlicht#1 – Henri Chopin in het archief Paul De Vree', M HKA, Antwerp (both 2011); 'In Neapel', Supportico Lopez Gallery, Berlin (2010). Selected group exhibitions are: 'Go and come back', Supportico Lopez at Paradise Garage, Los Angeles; 'Der Leone Have Sept Cabeças', Crac Alsace, Altkirch (both 2014); 'Revue Ou, Poesie Sonore, Poesie Ouverte, Poesie Konkret 1964-1974', Oslo 10, Münchenstein; 'Poetry & Performance', Richard Saltoun, London; 'Vocal Folds', Gertrude Contemporary, Melbourne; 'Die dritte Dimension', Supportico Lopez at Frutta Gallery, Rome; 'Anton Voyls Fortgang /A Void', Kunsthalle Düsseldorf, Düsseldorf (all 2013); 'Ecstatic Alphabet/Heaps of Language', MOMA, New York (2012); 'Poor. Old. Tired. Horse.', ICA, London (2009).